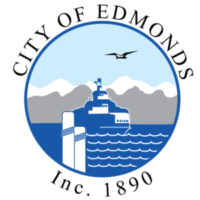 The Edmonds City Council is set to hold its usual committee meetings starting at 3:30 p.m. Tuesday, Sept. 12 — with one exception. The council will hold a special meeting at 7 p.m. to consider one item: authorizing the mayor to sign an amendment to an interlocal cooperation agreement with Snohomish County for federal Housing and Urban Development funding.
All of the meetings will be held virtually via Zoom at the following link:
https://zoom.us/j/95798484261. Or join by dial-up phone: US: +1 253 215 8782 Webinar ID: 957 9848 4261
If members of the public can't access the virtual committee meetings with their personal devices, a monitor is provided at the City Council Conference room at 121 5th Ave. N., Edmonds.
Here are the committee meeting agendas:
3:30 p.m. Public Safety-Planning-Human Services-Personnel
– Committee updates
– Title 19 building and fire code updates
– Update on city recruitments
–  Ordinance regarding shopping carts
– Adult exchange application process referred to Sister City Commission
– Resolution for a supplemental Environmental Impact Statement (SEIS) for Highway 99 Planned Action Ordinance 4079
– Committee updates
– July 2023 monthly financial report
– Employee travel policy review
– Mid-year review
7:30 p.m. Parks and Public Works
– Committee updates
– Johnson park property demolition contract approval
–  Capital projects – city facilities contract introductions
– Presentation of general facilities charges (GFC) analysis and future adoption of a GFC rate ordinance
– Presentation of utility rate study and future adoption of a utility rate ordinance.
–  Franchise extension for New Cingular Wireless PCS, LLC