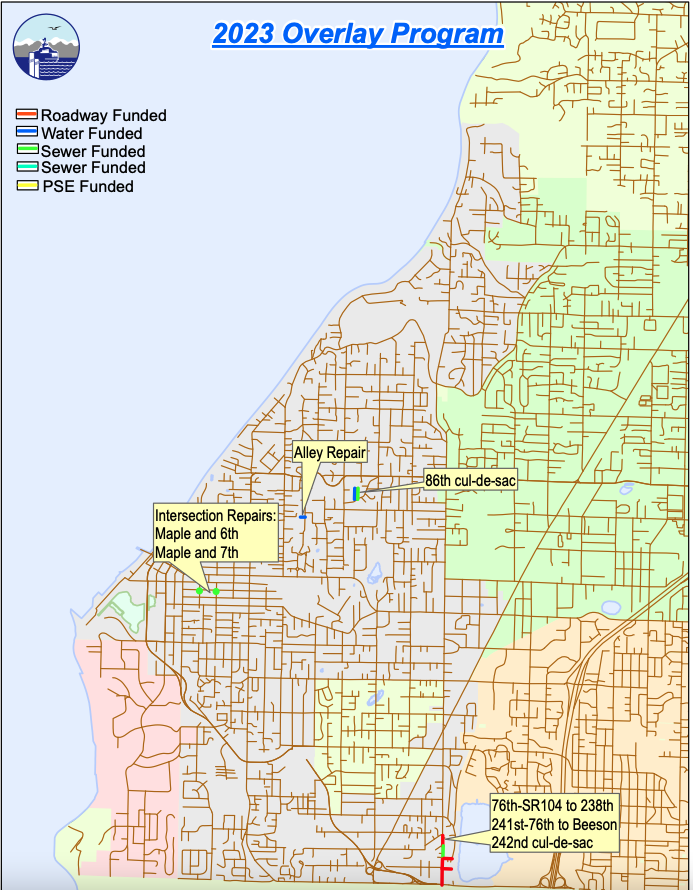 The City of Edmonds will be paving approximately 1.2 lane-miles of streets at various locations. The project is scheduled to begin the week of Sept. 18 and be completed in October.
The work involves grinding off the top layer of old pavement and replacing it with new asphalt pavement. After the work is complete, residents will notice an improved pavement surface and smoother street.
The project will require a detour of northbound traffic from 76th Ave W to Highway 99 between Edmonds Way (SR-104) and 238th Pl. SW. The detour is currently scheduled for Tuesday, Sept. 19, but roadway users are encouraged to visit edmondswa.gov/overlays and observe digital signs posted on the roadway as weather conditions could cause project delays.
The detour will allow crews to pave two-thirds of the street on the same day to provide a durable and lasting product. The remaining section will be paved on the following day.
Community members are encouraged to visit edmondswa.gov/overlays for a map of impacted streets, information regarding what to expect during construction, a detour map for northbound traffic at 76th Ave West between Edmonds Way (SR-104) and 238th Pl. SW and regular schedule updates.
Drivers should expect delays for lane shifts and traffic control operations during work hours (7AM-5PM). Please use caution when driving through the construction zones for the safety of construction workers, the traveling public, and pedestrians.
For questions, contact Ryan Hague at 425-771-0220 or ryan.hague@edmondswa.gov. You can also view the City project webpage by scanning the QR code below.