"An art exhibit in a real estate office?" two visitors from New Jersey wondered when they peered into a meeting room inside Coldwell Banker Bain in downtown Edmonds last Sunday during the annual Classic Car Show. Various art work—from Japanese-style fabrics to tiny hand-drawn ink paintings on cardstock—covered the walls with the artists' name and a description of the artwork. 
Throughout September, visitors can check out the artwork by members of Women & Art with Heart in Edmonds at Coldwell Banker. "Exploration of art materials through experimentation and play" is the group's mission statement, which means there is no formal agenda, and everyone is free to explore how to use the materials on their own with some guidance.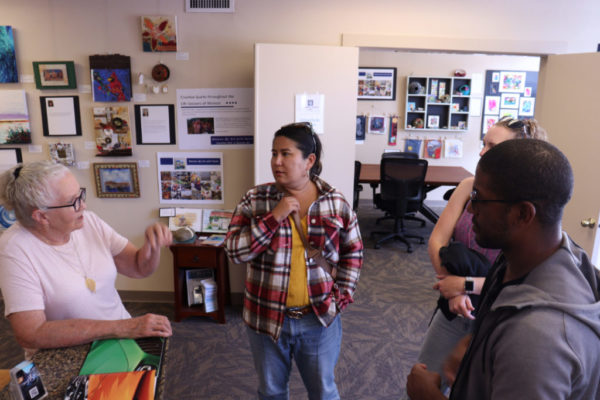 Artist Michele McGraw, who founded the group in 2017, said that the group's objective isn't really about finishing a project—it is more about the creative process of making art. However, this is their first time having such an exhibit for public viewing.
"We meet once a month and play with art materials," McGraw said. "Some stuff is finished, some isn't. What's really strange is we don't get together to produce art that's hanging on the wall looking gorgeous, beautiful and impressive. We play with materials!"
The exhibit project nudged the group from being "process-oriented" to "product-oriented." For most of the group members, it was intimidating. 
A few artworks that adorn the walls are incomplete, such as a sashiko cloth depicting a Japanese woman in a kimono. Even so, the "incompleteness" reflects the group's creative process rather than the finished work.
Each month, a member of the group introduces a type of art to the group at her home, a cafe or other locations. The art can be something the member is already familiar with or something that is completely novel for everyone. 
"They may have seen something that was intriguing to them that they wanted to try and introduce to the group," said art therapist Ruth Blaikie said, who has been with the group for about five years. "We're all learning together."
A few years ago, Blaikie explored micro-mosaic art, which is a bite-size version of typical mosaic art. She said that parts of her life needed to "shrink" and she can'not have "huge pieces of art" hanging around her home. 
"I've never done it before," she said of the tiny works. She tested different types of glues and metals that would hold the pieces together before inviting the group to her house to make mini-mosaics. "Everybody approached it differently and put their own artistic touch to it," she said.
Women & Art with Heart currently has 10 members with three members not attending the monthly meetings "due to distance, serious illness or season-of-life conflicts," McGraw said. The group remained connected throughout the years, especially during the first year of the COVID-19 pandemic. Because they couldn't meet in person during the statewide lockdown, the group did a journal project where each member made art in their journal. 
"I purchased handmade journals that were made by an artist outside of our group. They are fabric-covered, heavy paper journals," McGraw said. "We did a round robin with them. When we were finished, we would take it to the next person who hasn't done it yet. We would drop it off at their porch and text them and say, 'Porch fairy alert' and would open their door and on their porch is somebody's journal. It was a 'conduit' of staying connected during the lockdown."
"We missed each other and each others' support," said Beth Taylor, who has been with the group since 2018. "We tried to do Zoom meetings. We tried to do art projects via Zoom, but we have mixed success. What we did have success was keeping the group together nourishing each other and giving each other the support we needed at that time."
From 2014 to 2015, McGraw taught an art class at ArtSpot where students who completed the six-week series were invited to join "Sacred Circle" classes that were held at Cole Gallery. In 2017, she created Women & Art with Heart as a continuation of the Sacred Circle collective culture. Since then, group members have called McGraw "Mama Bear with wings."
Last summer, Denise Cole of Cole Gallery referred Blaikie to Patti Greene of Coldwell Banker Bain to exhibit their artwork. Greene, who is also the president of Edmonds Art Walk, has exhibited different artwork in her office each month, including student works from local art schools.
"We've done a lot of elementary school art in February. Last year we did Art for Life, a nonprofit that teaches art to disabled adults," Greene described. "I find that the group shows work really well here. It's like [having] two friends that do different kinds of art to do shows together."

Coldwell Banker Bain will be open during Art Walk, which runs from 5 to 8 p.m. on Thursday, Sept. 21.
— Story and photos by Nick Ng