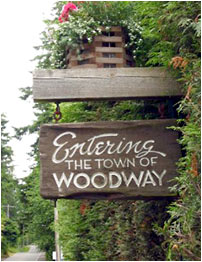 The Woodway Town Council at its Monday, Oct. 2 meeting is scheduled to hold a public hearing on an interlocal agreement with Snohomish County, the City of Shoreline and Olympic View Water and Sewer District that would give Woodway the option to annex Point Wells.
Point Wells, located at the northern end of Richmond Beach Drive, is home to a contaminated marine fuel and asphalt oil storage and distribution facility. (Read more about its history here.)
Pursuant to a 2019 settlement and interlocal agreement between the City of Shoreline and Woodway, the town has the first opportunity to annex Point Wells. As an initial annexation hurdle, the town must successfully negotiate an annexation interlocal agreement (ILA) with Shoreline, the county and the water and sewer district. If that occurs, then the Woodway Town Council would need to vote in favor of annexation.
You can find a copy of the draft ILA and additional information related to annexation on the Point Wells page of the town's website. Testimony is being accepted in person at the public hearing or by submitting written comment. Written comments must be submitted to heidi@townofwoodway.com no later than 4 p.m. on Oct. 2.
After hearing from the public, the town council will consider a resolution that authorizes Mayor Mike Quinn to sign the ILA and to submit a notice of intent to annex Point Wells to the Snohomish County Boundary Review Board. If the board authorizes the annexation, final approval of an annexation would not occur until the council holds another public hearing and approves an annexation ordinance.
Also at the Oct. 2 meeting, which starts at 6 p.m.,the council will receive the mayor's initial budget proposal. There will also be public hearings on the town's 2023 revenue sources and on the preliminary 2023 budget.
The council meeting and three public hearings will take place at Town Hall (23920 113th Pl. W. Woodway). The meeting can also be viewed via Microsoft Teams. Click here to access the Teams meeting. To call into the meeting, dial +1 323-795-5201. If you're asked to enter a meeting ID, it is: 347 735 392#.
The agenda and packet can be downloaded here.