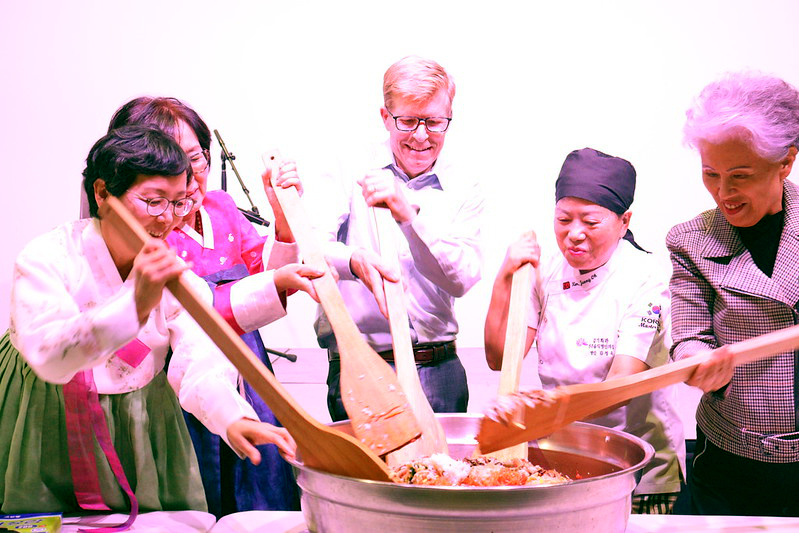 The smell of barbecued meat, spices and a slight tinge of fermented vegetables filled the lobby of the Edmonds Waterfront Center before the opening of the second annual Chuseok Celebration last week. Guests filed in line for a variety of dishes, including sigeumchi namul ("Korean spinach"), roast beef, fried chicken wings, heukmi rice, songpyeon ("rice cakes"), a variety of banchan ("veggie side dishes") — and of course, kimchi.
Senior student Minoo Jang of Lakeside School opened the Sept. 28 event with "Gabriel's Song" on his oboe. 
Edmonds Waterfront Center CEO Daniel Johnson followed the performance with a brief history of the event. "We had hoped for 100, we had 200," Johnson said. "This month, we hoped for 200, and we had over 300 people registered. What we're experiencing is the dream, and you're part of that."
Johnson introduced stand-up comedian Jessica Hong, who participated in last April's Edmonds Laugh-a-thon. 
"Chuseok is sometimes called 'Korean Thanksgiving,' but it's very different than American Thanksgiving," Hong said. "We don't have turkey and gravy and no cultural genocide."
Indeed, Chuseok (추석) literally means "autumn evening" in Korean, which is identical in meaning in hanja (秋夕), the original Korean writing system in Chinese characters before the adoption of the hangul system in 1443. While Koreans have been celebrating Chuseok for more than 2,000 years, the modern practice of the holiday was developed some time during the Joseon Dynasty (1362-1897). It is always observed on Aug. 15 on the lunar calendar.
The celebration of mid-autumn harvests is also practiced in China (zhong qiu jie, 中秋節), Vietnam (Tết Trung Thu, 節中秋), Taiwan, Singapore, Japan (tsukimi, 月見) and Cambodia (Bon Om Touk, បុណ្យអុំទូក).
While Chuseok is often associated with eating, dancing and ancestor worship, Professor Yong-Chool Ha, who is the director of the Center for Korea Studies at the University of Washington, emphasized during remarks to attendees another concept of the holiday: moderation.
"It's one of the greatest virtues in Korean society," Ha said. "Not too much, not too ambitious yet not too humble. Sort of middle ground." This can be referred to avoid over-indulgence during a time of harvest and abundance of food and drinks.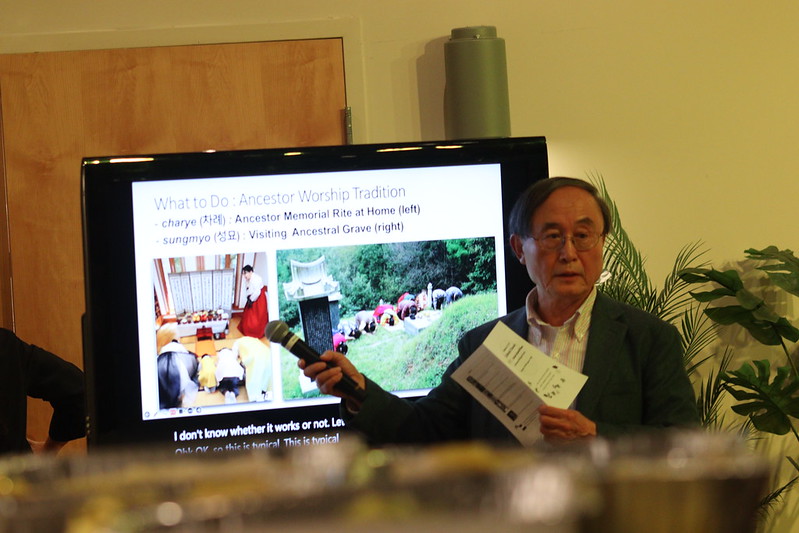 After Ha highlighted the origins and traditional practices of Chuseok, Seattle Times photographer Daniel Kim shared his experience as a Korean American and what Chuseok means to him and his family.
Musician Elina Kim — dressed in a traditional, white hanbok — played the haegeum, a two-string vertical fiddle. 
The grand finale of the Chuseok celebration was a kimchi and bibimbap cooking and tasting demonstration, led by Chef Yuni Cobb, board president of UNIHOPE, and Kim Jeong Ok, chef and owner of Gabgiwon and a Korean government- certified junjoo-bibimbap specialist.
"I'm so happy you stay, so it's worth it to come all the way from Korea," said Kim, whose greeting was translated by Cobb from Korean to English.
"She was worried that you all would be gone," Cobb added.
Cobb and Kim explained that kimchi has more than 1,500 years of history and typically includes about 15 ingredients — contrasting the original ingredients of just cabbage and salt. Today, there are about 180 varieties of kimchi. 
"One thing I'm very proud of is the United States has designated Nov. 22 to be official Kimchi Day," Kim said, translated by Cobb. "Why Nov. 22? Eleven ingredients go into kimchi. Twenty-two vitamins and minerals including probiotics." 
In fact, kimchi was also listed as a UNESCO's Intangible Cultural Heritage of Humanity in 2013, and the South Korean government first recognized Kimchi Day in 2020. Former First Lady Michelle Obama – also a kimchi lover – posted a recipe for kimchi on her Twitter account in 2013.
Daniel Johnson said he would like to make the Chuseok Celebration an regular, annual event at the Waterfront Center. The next Chuseok will be observed on Sept. 17, 2024.
— Story and photos by Nick Ng