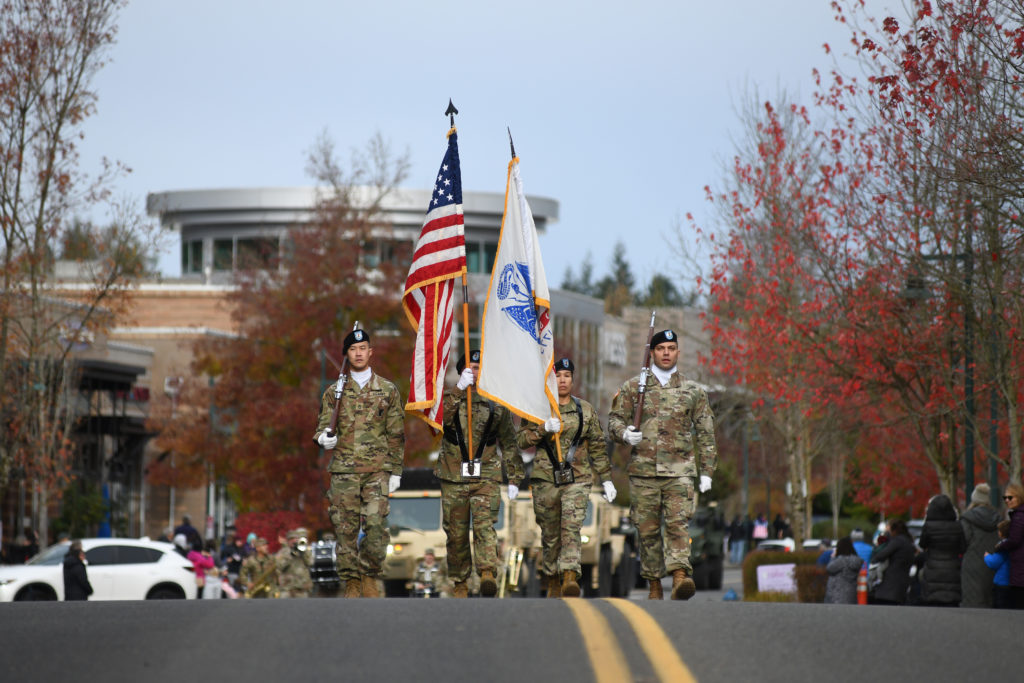 The City of Mill Creek is hosting its annual Veterans Day Ceremony and Parade on Friday, Nov. 10.
The parade, sponsored by Amazon, begins at 11 a.m., winding through Mill Creek Town Center from L.A. Fitness (15024 Main St.) south to City Hall (15728 Main St.), and will last about one hour. The parade will feature veterans and their families, four brand marshals, all WWII veterans, military and high school bands, including America's First Corps Bigfoot Brass Band, the Glacier Peak High School Grizzly Band, and the Snohomish High School Panther Band, and color guards, vintage and military vehicles, and community organizations. Emcees Stitch Mitchel of KXA/KRKO Radio and Chris Jones of State Farm Insurance will announce participants at the start and mid-way through the parade.
New this year is the Heroes' Cafe Sock Drive and Giving Tree, which will provide opportunities for the community to help veterans this holiday season. To donate new socks or choose a needed item from the giving tree, visit the Heroes' Café tent near Boston's Restaurant on Main Street during the parade or the lobby at Mill Creek City Hall North (15720 Main St.) throughout November.
The Heroes' Café is a Lynnwood-based nonprofit organization focused on improving veterans' welfare. Heroes Cafe founder and Executive Director Gary Walderman has played an active role in parade planning as part of Mill Creek's Veterans Day Committee.
The city expects a large turnout and asks attendees to plan accordingly regarding traffic and parking:
Main Street between 148th Street Southeast and City Hall North will be closed to all parking between 10:30 a.m. and 12:30 p.m.
153rd Street Southeast will be blocked to through traffic beginning at 10:30 a.m. and will reopen once the parade passes.
From Mill Creek Boulevard, traffic can turn north on Main Street but will be diverted to an access road south of Town Center.
The north LA Fitness parking lot will close at 8 a.m. for parade staging; patrons can park in the south lot; however, once the parade begins at 11 a.m., access in and out will be temporarily stopped.
To learn more about the ceremony and parade, visit millcreekwa.gov/veteransday.
Edmonds-based VFW Post 8870 will be hosting a 1 p.m. ceremony on Veterans Day — officially Saturday, Nov. 11 — at the Edmonds Veterans Plaza to dedicate newly inscribed concrete benches to honor the late Jim Traner and Post Member Ron Clyborne. Both men were instrumental in fundraising efforts for the Edmonds Veterans Plaza, which was dedicated in 2017.