Escape to a world of pure imagination with 'Roald Dahl's Willy Wonka'
Nov. 24-Dec. 17, Thursday-Saturday at 8 p.m., Sunday at 2 p.m.*, Wade James Theatre, 950 Main Street, Edmonds
Roald Dahl's Willy Wonka follows enigmatic candy manufacturer, Willy Wonka, as he stages a contest by hiding golden tickets in five of his scrumptious candy bars. Whoever comes up with these tickets will win a free tour of the Wonka factory, as well as a lifetime supply of candy.
Four of the five winning children are insufferable brats: the fifth is a likable young lad named Charlie Bucket, who takes the tour in the company of his equally amiable grandfather. The children must learn to follow Mr. Wonka's rules in the factory or suffer the consequences …
Some dates are already close to sold out, so don't wait to make your holiday plans and book your tickets today.
*Two Saturday matinee performances have been added on Dec. 2 and 16
Tickets: $28 general adult (19-59); $25 junior/senior/military. Available online or by phone at 425-774-9600
Content: This production is appropriate for all ages, but is most suitable for children ages 5+
~ ~ ~ ~
"Narrative: The Art of Storytelling" opens at Graphite Arts Center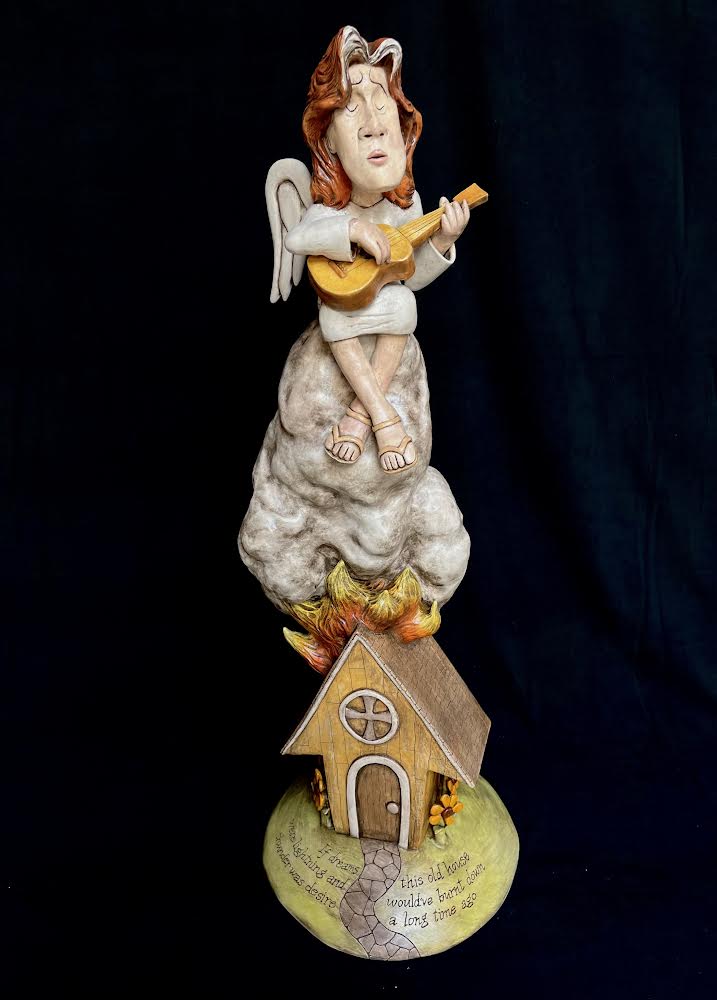 By Mike O'Day
Opening Night artists reception: 7- 8.30 p.m. Saturday, Nov. 11, Graphite Arts Center, 202 Main Street, Edmonds
The Graphite Studio Artists share new works in the upcoming group show Narrative: The Art of Storytelling. Featured works will highlight the power of visual art to tell the stories of our past and present. Artists in the show include Sarah Crumb, Andy Eccleshall, Tracy Felix, Johanne Friedrichs, Mike O'Day, Mary Olsen, Julie Perrine, Amy Pleasant, Bill Whitbeck and Rainny Zhao.
Inspiration for works in Narrative: The Art of Storytelling comes from poems, rhymes, song lyrics, family memories, relationships with friends, experiences with animals, and more. Some works are reminders, some works are interpretations, and some works are illustrations of things either real or unreal. Visitors to the show will enjoy the stories revealed in the artworks as told by the artists, as well as create their own personal narratives for the works through their individual experiences with the art.
Moved by the lyrics of a song, ceramic artist Mike O'Day shared "The visual of smoke from the burning house developing into a cloud for the angel to perch upon was the inspiration for this sculpture."
The public is invited to the opening night artists' reception on Nov. 11. Visitors will have a chance to see the new exhibit, meet the artists, enjoy a bite to eat, and hear live music by The Bill Witbeck Jazz Band. The exhibit runs through Jan. 6.
In conjunction with Narrative: The Art of Storytelling, featured artist Amy Pleasant will give a talk frm 7-8:30 p.m. Dec. 6. Family Album by Pleasant will discuss how the notion of family develops in visual narratives. The artist talk is free and open to the public. Suggested donation of $10.
~ ~ ~ ~
Fall in love with all the new art in downtown Edmonds all month long and at the Third Thursday Art Walk
5-8 p.m. Thursday, Nov. 16
A sampling of what you'll find this month: Art for All at Coldwell Banker Bain, Jenni Lee and other artists for "Contemporary Expressions" at Cole Gallery, Rie Munoz (and Michelle Lierre) at Windermere Real Estate, and Julie Steed at Anchor Chic Consignment.
Don't let the gloom of the Big Dark get you down — there is bright new art up all over town, as 23 locations around downtown Edmonds have new art up for November, and many will have their doors open on Nov. 16 from  for the Third Thursday Art Walk.
From clay to fiber, photography to jewelry, literature to printmaking, and of course, painting — the variety is sure to be a crowd pleaser. For your listening pleasure, music from the Bothell High School orchestra will be at Cole Gallery for the Third Thursday Art Walk. So come out, get inspired, and maybe get some early holiday shopping done.
Third Thursday Art Walk is also the opening night for the 4th Annual Wreath Walk, make sure to visit all the artist-created wreaths and then vote on your favorite for the People's Choice Award (award ceremony Dec. 21). You also have the opportunity to bid on wreaths to make them your own. This year, proceeds go to Art For All. The Wreath Walk and online auction both close at 8 p.m. Dec. 21. Click here for more information and links to maps, voting, and bidding).
Take a look at the show descriptions and walking map online to plan your route.
~ ~ ~ ~
Kidstock! Returns to Edmonds Center for the Arts
9:30 a.m.-3:30 p.m. Saturday, Jan. 27, Edmonds Center for the Arts, 410 Fourth Avenue North, Edmonds
The Edmonds Center for the Arts (ECA) is thrilled to announce the return of their in-person Kidstock! event. This free full-day arts celebration is designed for families with children of all ages and features a variety of live music performances, arts education workshops and activities for kids. Register here.
MAIN STAGE PERFORMANCES
9:45-10:30 a.m.: Alex Zerbe
11-11:45 a.m.: The Not-Its!
12:15-1 p.m.: Peter Ali
1:30-2:15 p.m.: Gansango African Music & Dance
2:45-3:30 p.m.: Ballet Folklorico de Panama
WORKSHOPS
10:45 a.m.: Hats & Poems with Simple Theater
12:45 p.m.: Hip-Hop with Silver Kite
2 p.m.: Fat Brush Project presents a Bilingual Arts Making Workshop
PLUS: Silent Disco, Noise PARADE, Motley Zoo, a bouncy house, face painting, balloon animals, games, food trucks and more
~ ~ ~ ~
A bittersweet goodbye to The Neverending Bookshop
Farewell party: 10 a.m.-4 p.m. Sunday, Dec. 17, The Neverending Bookshop, 7530 Olympic View Drive, Unit 105, Edmonds
The Neverending Bookshop will close its doors on Dec. 17. In a Facebook video, owner Annie Carl shares that she is "ready to move on and find out what else I'm really good at, like maybe writing and getting published."
Everything is 25% off now, and after Thanksgiving, the sale prices will bump up. The store will still offer special orders until the first week of December and will honor store credit until the official close. On Dec. 17, Carl will throw a party to celebrate the store; be sure to stop by and wish her well on her next adventure.
— By Elizabeth Murray
Elizabeth Murray is a freelance writer thankful to call Edmonds home. When she's not busy wrangling her two kids (and husband), you can find her playing ukulele.