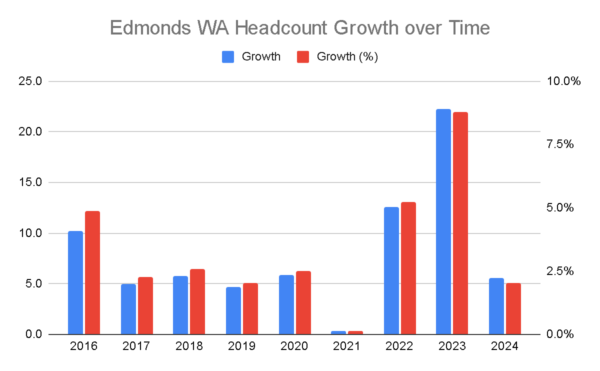 Recently, Councilmember Will Chen wrote a letter to the editor (
Commentary: Facing this financial crisis together – calling for unity between the administration and city council – My Edmonds News
) in which he addressed the current fiscal challenges that the city is facing. In that letter, Councilmember Chen wrote: "The fact that our city has a net gain of 47 employees in the first nine months indicates that the city administration has expanded quickly in a short period of time."
If accurate, this would indeed represent a rapid and unsustainable growth in city government but the number quoted seemed frankly incredible. The primary drivers of the city's fiscal state are the increased costs of staffing the various city departments and the increases in payments to South County Fire to provide emergency services to Edmonds; so understanding the origin of the increased labor costs is clearly an important factor in the upcoming election cycle. Councilmember Chen did not provide any data to back up this claim or any breakdown of where those additional staff were added so I made a public records request to the City of Edmonds for the data.
Using the available budget reports from 2015 to 2023 and the mayor's proposed budget for 2024, I have compiled data on the trends in city employment for a 10-year period, covering both the current administration and the previous one. In the interests of providing facts that may help to remove the emotion surrounding the rising labor costs that the city is facing, I would like to share my observations from these data. Note that these data are subject to interpretation and my assessment may not be completely accurate but I am confident that the broader conclusions I draw are accurate.
First of all, according to this budget data, there is no plan to increase city hiring by the number quoted by Councilmember Chen. The 2023 city budget does include a substantial increase in headcount (the largest I see in this 10-year period that I analyzed) but the total net gain in headcount is 22.3. I interpret this to mean that the maximum headcount increase that can occur in 2023 is 22.3, but I am working with 2023 budget data whereas for previous years I have actuals. Assuming there are currently open positions with the city, then we would not yet have reached this limit.  In addition, the 2022 actuals indicated that there were more than 24 vacancies for previously budgeted positions in various departments at the time that report was prepared, so it is reasonable to assume that the hiring which Councilmember Chen referred to included the backfilling of some or all of those vacancies, as well as any new vacancies that may have arisen during the year to date.
While the hiring plan for 2023 is indeed an outlier in comparison to the years that I have reviewed, it is not excessively so. Average headcount growth over this period has been ~3.4% with a peak of 8.8% for 2023 and a minimum of 0.1% for 2021.  Other years that exceeded the average growth rates include 2016 (4.9%), and 2022 (5.2%)
Of the net increase of 22.3 headcount in 2023, more than half of that was for the police department, which was budgeted to increase from 72.8 to 84.6 full-time equivalent (FTE) heads. I noticed, however, from some of the data in the budget packet that was debated at council that some of these police positions remain unfilled. Other areas to increase in the 2023 budget were human resources, administrative services, economic development, parks and rec, and engineering.
In contrast to 2023, the budget proposed for 2024 keeps new hiring to a minimum, proposing only 5.6 additional staff across several departments.  This proposed increase of 2% is among the lowest over the 10-year period.
Total city employment has grown by 34.6% or 72.4 headcount in the 10 years 2015-2024 and there has never been a year in which headcount did not increase under either the current administration or the previous one. During that period, the police department has seen the largest growth with 20.6 FTE. Parks and rec (10.4 FTE) and finance/administration (9 FTE) have seen the next largest growth but the growth in finance/administration appears to be due primarily to a transfer of city clerk employees from the mayor's office to that department, which occured in 2022. Other departments that have seen above average growth over this period include HR, information services and economic development and community services.
In the same period, 2015-2024, city revenues will have grown from under $80 million to an estimate of $122 million next year, a rate of increase that far exceeds the rate of growth in city employment.
In conclusion, Edmonds is a growing city that is investing in its community and their public safety. With that growth and investment comes additional cost, some of which the city can control and some of which (e.g. South County Fire charges) it cannot. The argument that city hiring is out of control does not appear to hold water. While 2023 budgeted hiring was above recent historical norms, it does not appear to be excessive and appears to be directed at areas that are important for the good of the community and the economic health of the city.
— By Niall McShane
Niall McShane is a former executive with a strong analytical mindset who moved to Edmonds in 2022 and is enjoying learning more about how Edmonds is run by its mayor and council.