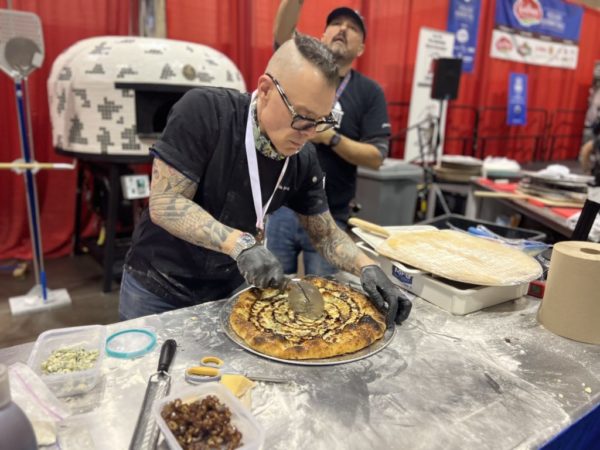 Edmonds-based pizza chef Niles Peacock won the grand prize in the recent Galbani Professionale U.S. Pizza Cup.
It was the first time that Peacock, who owns Edmonds' Niles Peacock Kitchen & Bar, had competed in the Galbani Professionale U.S. Pizza Cup championship. As a champion, he has won a trip to Parma, Italy, to compete in the World Pizza Championships next April. His winning entry was the "My Hot Date" pizza, which features a 96-hour pre-ferment dough, opened up and brushed with garlic oil and dusted with whole-milk mozzarella, gorgonzola crumbles, garlic-rubbed Medjool dates, a reduced balsamic glaze, and finished with Galbani Pecorino Romano cheese.
Hosted by Galbani Professionale, the U.S. Pizza Team and the Pizza Tomorrow Summit, the competition attracts the top pizzaiolos from across the U.S. and its territories, all vying for the grand prize and to represent U.S. Pizza. Two groups of 13 talented pizzaiolos and four expert pizza adjudicators declared first through third place for the semifinals. The first-place, semi-final winners from each group then faced off against each other to decide the Galbani Professionale Champion for the 2024 competitive season.
Peacock will also compete at the 40th annual International Pizza Expo in Las Vegas, Nevada, on March 19-21, 2024.