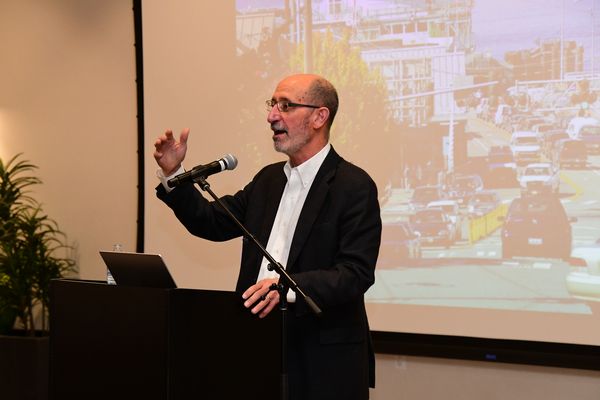 Still enjoying a comfortable lead for Edmonds mayor as mail-in ballots continue to be counted, presumptive Mayor-elect Mike Rosen addressed an estimated 125 attendees who gathered at the Edmonds Waterfront Center Thursday for the regular meeting of the Edmonds Civic Roundtable.
The election results are not yet official. The individual counties will certify their results on November 28; the Washington Secretary of State will certify the final results by Dec. 7. But according to the latest vote count, Rosen held a 55%-to-45% lead over incumbent Mayor Mike Nelson.
Edmonds Civic Roundtable (ECR) Chair and former Edmonds City Councilmember Tom Mesaros welcomed attendees, immediately pointing out that Edmonds came in second in vote returns of jurisdictions across Snohomish County at 51.2% – the only municipality with more returned ballots was the Town of Index with 64.6%. Index boasts 130 registered voters compared to Edmonds' 31,600.
"While it's great to lead the county in voter participation, I wish it could be higher," Mesaros added. "And that's where this organization – the Edmonds Civic Roundtable – comes in. Our goal is to empower our neighbors, voters and government officials to make informed decisions based on accurate, unbiased information. Despite the misconceptions of some, the ECR does not advocate for candidates or political positions. Our sole purpose is to help and encourage our neighbors to make informed decisions and participate in city government by providing solid, useful information on local issues."
Mesaros was followed by ECR Membership Committee Chair Teresa Simanton, who outlined upcoming  events, then turned the podium back to Mesaros to introduce Mike Rosen.
"I first want to thank everyone who voted for me – and everyone who didn't," Rosen began. "The important thing is not which candidate you chose to support, but that you studied and sifted through the information, made your decision, and then voted. People pay attention here in our community – they're engaged and they want to make a difference."
He went on to stress that elected offices in Edmonds – including the mayor – are non-partisan and that he will remain committed to that principle.
"If you see me doing anything that even looks like partisanship, please whack me over the side of the head!" he added.
He next stressed the need to build relationships – with the community, with council, with staff and with Edmonds' regional partners.
"We're facing challenges," Rosen added. "At home we're in a budget emergency, we need to get our Comprehensive Plan done, our city codes are not in great shape, and we need to address pedestrian safety. Regionally we're looking at the fentanyl crisis, mental health, food insecurity, homelessness and rising prices to name a few. And to address these we need to build relationships.
"Our community has faced challenges in the past," he continued. "We've weathered fires that took out most of our downtown, recessions, diseases like flu and polio – and our community always came together with heads, hearts and hands to address these. We work together to fix stuff, and we will do it again."
After this short introduction, citizens were invited to step up to the microphone to speak about the issues that concern them.
"This is not a question period," Rosen cautioned. "That will come later. What I want to hear from you now is your take on what I call 'stop, start, continue.' That is, what do we need to stop doing, what do we need to do that we're not doing, and what are we doing that's working well and should be left alone."
Suggestions ran the gamut from praise for the Halloween and Fourth of July celebrations to fast-tracking the city code revisions to preserving older housing as an affordable alternative to new construction. Specific suggestions included enhancing pedestrian safety by adding lights to the stop signs around the fountain, using the "expertise and grand mindset" of our citizens and city staff instead of spending money on consultants, and taking positive steps to further involve the Highway 99 community in civic affairs.
Next was the chance to ask questions of Mr. Rosen directly.
The first question referenced the old "It's an Edmonds Kind of Day" bumper sticker. To the questioner, it meant simply that we're happy to live in a great place – and he wanted to know what Rosen would do to get back that sense of community and gratitude for where we live.
"We all chose this place, and we share a love for it," Rosen responded. "When we gather for events like Halloween and July Fourth, we smile at each other and react with respect and empathy as we share the experience. I am concerned that as a nation – and to some degree locally – we have let the fringes sneak in that say it's OK to be disrespectful of each other. We need to get past that and get back to where we were."
The next question was about sidewalks and sidewalk repairs/improvements, asking if there's a master plan for what will get done when, or it is just being done piecemeal.
Rosen responded, acknowledging that there is no overall plan for sidewalks, like there is for pipe replacement (which is on a 100-year cycle) or street resurfacing.
"I think it would be cool to have sidewalks on a similar plan," he said. "I'd love to get a group in a room and ask how we should prioritize this – by closeness to schools, number of folks who use it, number of folks who've tripped and fallen – but we need a plan, and right now we don't have one."
He was then asked about communications, with the questioner noting that of late it has not been particularly good or civil, and how he would improve this.
"We need transparency and we need to share information, good or bad," Rosen responded. "It's challenging now because there isn't any one place where people go for information. People today tend to cluster, and we need to get into these clusters – the faith community, the underwater park divers, the cold water swimmers – and get the information out to them. But we also need to realize and accept that once the information gets out, not all will agree with it and the decisions that grow from it. But it's vital that — agree or disagree — you know that you were involved and heard."
The next question concerned the younger generations, who were largely not represented among the mostly retirement-aged attendees in the room.
"There are lots of parents pushing lots kids in strollers around town," the questioner stated. "We have two new generations here – the parents and their kids. How do we engage them?"
"Many of our parents are in their peak earning years, and between jobs and raising children there's not a lot of time left over for serving on a commission," Rosen responded. "We can't just say 'OK, you're on the planning board, here are 200 pages you need to digest before next week's meeting.' We need to provide the opportunity to make small asks and engage folks in smaller bites. Can you spare a couple of hours a week, can you help address a single issue or even part of a single issue?"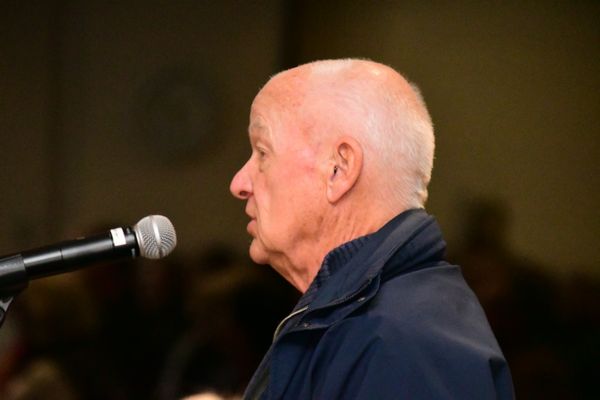 He was then asked about the budget and his process for dealing with it.
"The budget is a huge problem, we have to solve it, it's priority one," he responded. "The first thing we need to do is assign each budget item to one of five buckets – what must stay on the table, what we simply cannot do, what we can do differently, what we can do later, and what we can get someone else to do and pay for. Once we do this, we'll go from there and make the decisions."
The next question addressed how he plans to build trust with staff, the council and the community.
"It's a human process," he began. "I need to sincerely understand and listen to individuals with respect, empathy and dignity. I need to provide an environment that nurtures our staff, recognize and be honest about differing needs and agendas, and work toward a common vision with all concerned."
Another resident spoke of how citizens are often informed on a Friday about a decision that's due to be made on Tuesday, and that this leaves no time for stakeholders to consider it and weigh in. The resident requested a planning calendar that lays out what things will be considered in what timeframe so folks will know and can anticipate.
Rosen responded that this would not only help the citizenry but would help the city schedule things better. He added that everyone needs to see the materials in the council packets — including PowerPoints — before they are presented in a council meeting. "This would not only help get things done in a more organized way, but it would get our citizens involved earlier," he added.
The next question addressed the various surveys conducted by the city, specifically stating that Edmonds could do a better job designing surveys with non-leading questions.
"I believe in the value of surveys, when they're done right," Rosen said. "But we need to decide beforehand what we need to know, who we need it from and the best way to get it. Then we need to ask the right questions that don't lead to a pre-selected conclusions. And then we need to be careful how we interpret the results."
The final question ended the event on a high note. It came from Rosen's wife, Sharon Howard.
"I have just one question," she said with a laugh. "Are you ever going to be home?"
— Story and photos by Larry Vogel